Author: Megan Whalen Turner
First Published: 2006
Genera: YA
Where I read it. I rewarded my self a re-read of this entire series after I endured natural child birth. The day after Baby G was born I started The Thief, then the Queen of Attolia then the King then Conspiracy of Kings. Then...I waited two weeks and.....re-read the entire series. I haven't re-read a book so fast since My Fathers Dragon when I was seven under the covers with a flashlight.
The review: I think I'm emotionally attached to this series. For the last 30 days the only thing I've done is feed my tiny new baby and read and re-read. I love the adventure and the politics. Ms. Turner is a master at foreshadowing events. And as for a plot, my goodness, this is a great story.
But I'm a girl, and a romantic, so the best part of the series is the relationship between Attolia and Eugenides. It. is. completely. captivating. I find myself opening the books again and again to re-read my favorite parts. Example: The time the King and Queen are dancing and he pulls all of the hair pins out of her hair. This is subtle romance, not sex on every page, or sappy teenage angsty love.
At the risk of offending Twilight fans (speaking of teenage angst love) I want to say that the relationship between the King and the Queen is exactly what twilight should have been given all of it's hype. I feel bad comparing the two since really The Queen's Thief books are far superior, but if this review entices any of the billion twilight fans to read this series instead then all the better! I give The Queen and The King of Atolia both 5 ½ stars and if you give them any thing less than 4 stars I demand you to justify your decision. (Like Megan McMurrin for example who only gave this book 3. Explain!?!)
I also read:
The Theif - twice
The Queen of Atollia -three times
A Conspiracy of Kings - twice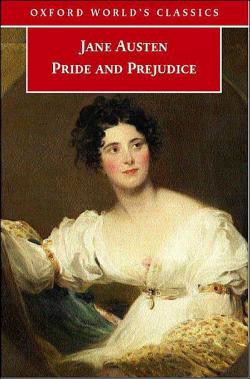 Pride and Prejudice
Author: Jane Austin
First Published: 1813
Where I read it: I listened to it while walking very slowly around my neighborhood with my newborn baby strapped to my chest.
The review:
I have a confession. I've told people for years that I'd read P&P but I really only had seen the movie. (Every version of the movie) Even Spencer, my husband, who only reads books about athletes had read Pride and Prejudice. Incidentally this is what Spencer had to say about Jane Austins most read novel "It was much more clever than I would have thought." I felt so embarrassed to say I never had never experienced the written version of Mr. Darcy. I decided to make myself honest this summer and I read it just after Geneva was born. Pride and Prejudice is fantastic. Obviously I am the last person to read it on the planet so I won't do any kind of a summary. I'll close with this admonition: If you, like me, have only seen the movie. Do your self a favor and read the book. Amen.
Stranger in a Strange Land
Author: Robert A. Heinlein
Date Published:1961
Where I read it: I read this while painting and cleaning an apartment after one of our tenants moved. The guy left the place trashed.
The review:
I hated this book. I like lots of science fiction but this one left a bad taste in my mouth. The author seemed obsessed with sex. very obsessed with sex. Spencer, my husband, had to read it in high school for his English class. Really? This book? With all the great literature in the world I'd have to give his teacher an F for picking this book. Off hand I can think of a number of books that explore the same concept and are more appropriate.
The plot is interesting. A man was raised my martians on Mars and then comes to earth to be with is "people." He realizes his alien upbringing has made him a stranger There is really much more too it than that and I did "get" the book. I just didn't like it. Two thumbs down.
Entwined -
Author: Heather Dixon
Date Published: 2011
Genera; YA
Where I read it: I read this book up at my Grandparents cabin in a very isolated valley in Montana surrounded by all of my sisters. I read it in the loft of the cabin around the solstice so it was light till 10:30 every day. It was the perfect time to read it.
The review:
This was a fun retelling of the 12 dancing princesses. I like the Gothic imagery of the run down castle and the old magic juxtaposed into a more modern life. The scene where the princess first find the hidden ballroom was enchanting. However, some of the princesses were stock characters. This is really no discredit to Ms. Dixon, I don't think even the best author could avoid this literary trap considering their need to be twelve princesses. My chief complaint was the dialogue. It was too Nickelodeon and diminished the romanticism otherwise achieved by her setting and descriptions. On another note it made me wish I were a dancer. I've got two left feet.
To get the Book Hook remember:
1. Make a comment
about one of my book reviews (upcoming)
on one of the next 4 blog posts where I will review all the books I read in 2011 per season. Let me know if you liked one or more of the books, or liked/disliked my reviews -or- post your own review of one of the books.
2. Leave a comment on
the Book Hook Post
and tell me how you would use the book hook. Be creative.
3. Become a follower of my blog.
I'm going to have my "committee" composing of me,
Megan
(remember she was present during the making of the book hook.) and Arwen my sister and recipient of the first Book Hook choose a winner. All comments need to be finished by March 6, 2012.
Megan
, Arwen and I will choose winners by March 10th.